In just six short months, mum-of-three Stephanie hit her goal weight of 62kg by following The Healthy Mummy's 28 Day Weight Loss Challenge which is a 4 week program (and monthly theme) designed to help mums lose weight and learn to cook with healthy and nutrient dense ingredients. 
"I'd tried every fad diet before starting The 28 Day Weight Loss Challenge/s and wanted to make a lifestyle change instead of dieting and failing. I joined and started the Challenge when my third baby was a week old," Stephanie adds. 
Now Stephanie has completely embraced her Healthy Mummy lifestyle, her family's on board and she is on a mission to continue to tone up, keep motivated and inspire others to do the same.
This is Stephanie's incredible weight loss story.
Stephanie's 19kg weight loss
Stephanie now sits at around 58-60kg and has maintained her 19kg weight loss. She has done this by following a balanced and moderation diet – the 28 Day Weight Loss Challenge Meal Plan and recipes.
Stephanie says, "I'm the kind of person that if I can't have something, I just obsess over it. Therefore, knowing that I can still enjoy things like pizza, chocolate and curries (while on the Challenge) definitely help keep me on track."
Want some maintaining tips? Try these 5 for a flat tummy.
Stephanie also thinks it's important to remember that life constantly happens and nothing will ever be perfect. "You need to realise that eating well and moving your body will make you feel a thousand times better than sitting on the lounge wallowing and eating a block of chocolate," she adds.
Once reaching her goal, Stephanie realised that this was something she wanted to maintain forever, "I will always be a 28 Day Weight Loss Challenge member." 
Stephanie has also recently incorporated The Healthy Mummy Protein Powder in her diet and sips on it after her workouts. She loves hitting the gym these days and performing exercises such as barbell squats, deadlifts and bench press. The Healthy Mummy Protein Powder post work out is an awesome way to get in a quick dose of protein – which contributes to tissue report and increased muscle mass.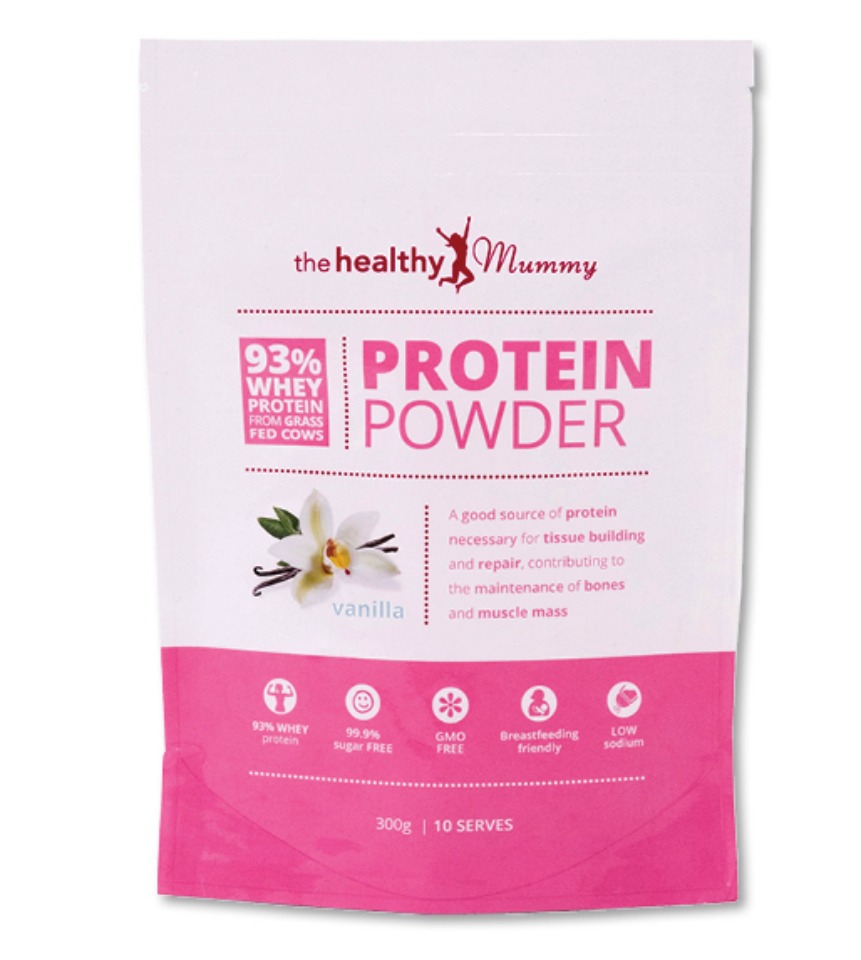 Meal prep for a minute
Not a fan of meal prepping for hours at a time, Stephanie promotes 'Meal prep for a Minute', meaning if you have 5 minutes before school lunches need to be made, use that time to boil some eggs. If making a meal with a sauce, bulk make the sauce and freeze in ice cube trays.
"I bulk cook brown rice and freeze in zip lock bags. I cut fresh lasagna sheets and freeze in the correct portions so I can just throw in the Stove Top Lasagna. I pre cut meat and marinate if required before freezing."
All of this prep is super simple and takes just minutes to reduce time when cooking! Try some of these meal prep tips to get organised.
Bonus: Stephanie's husband has also benefited from the Healthy Mummy, losing over 12kg!
What Steph eats to maintain her 19kg weight loss and tone up
Below is a basic run down of what Steph eats in a day to maintain her 19kg weight loss and tone up:
Breakfast: A smoothie everyday, "my favourite at the moment is 4 frozen cherries, 4 macadamia nuts, 1 tbsp greek yoghurt, 1 scoop Vanilla Healthy Mummy Smoothie mix, 100mls water, 150mls lite milk, ice," she says.
Snack: A protein shake and a banana.
Lunch: A smoothie or potato wedges from the Challenge hub.
Snack: Celery boats with creamy spring onion filling.
Dinner: Spinach and pumpkin curry.
Snack: Greek yoghurt with berries and choc chips.
Stephanie's next goals are to improve her pushup strength and eventually be able to squat 100kg!
Looking forward to the upcoming 28 Day Weight Loss Challenge, Stephanie wants to feel less bloated and have more energy.
Join Stephanie on 28 Day Weight Loss Challenge!