Are you a passionate runner looking to optimize your training schedule for the month of June? Look no further! Here's the ultimate June calendar designed specifically for runners. Whether you prefer a traditional printable PDF calendar or a visually engaging Instagram story template, we have you covered. Let's dive in and discover the perfect tools to keep you motivated and organized throughout the month.
Benefits of Using a June Calendar for Runners
Stay Organized and Motivated – A dedicated calendar allows you to plan and track your running activities, keeping you organized and motivated towards achieving your goals. It serves as a visual representation of your progress, making it easier to identify patterns, set milestones, and stay focused.
Track Your Mileage and Progress – By using a calendar, you can log your daily mileage and track your progress over time. This helps you monitor your improvement, adjust your training regimen, and identify areas where you can push yourself further.
Training –  June is a popular month for races and training for Fall half marathons and full marathons. With a well-structured calendar, you can easily schedule your training sessions leading up to these events, ensuring you are adequately prepared and ready to perform at your best.
For runners who prefer a tangible and easily accessible format, we have created a printable PDF calendar specifically tailored to the month of June.
Easy-to-Use and Customizable Our printable PDF calendar provides a simple and user-friendly layout. You can easily print it out and customize it according to your preferences, such as adding notes, highlighting important dates, or color-coding your training sessions.
Space for Personal Notes We understand that every runner has unique goals and requirements. This printable PDF calendar includes ample space for personal notes, allowing you to jot down specific details, record how you felt after each run, or make any necessary adjustments to your training plan.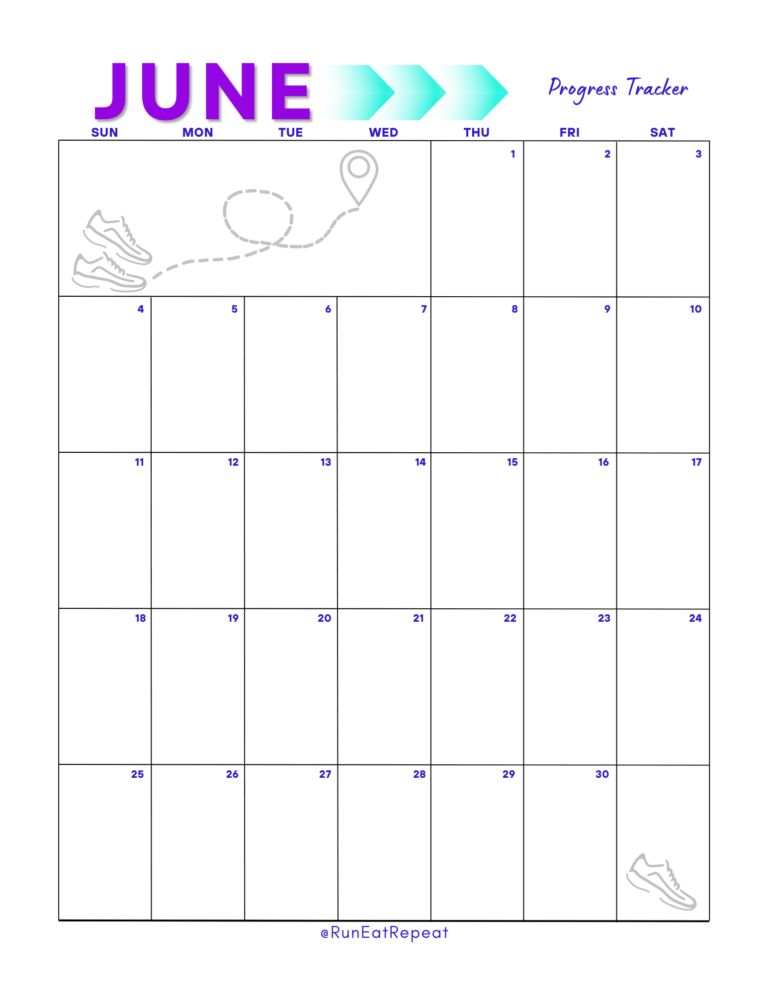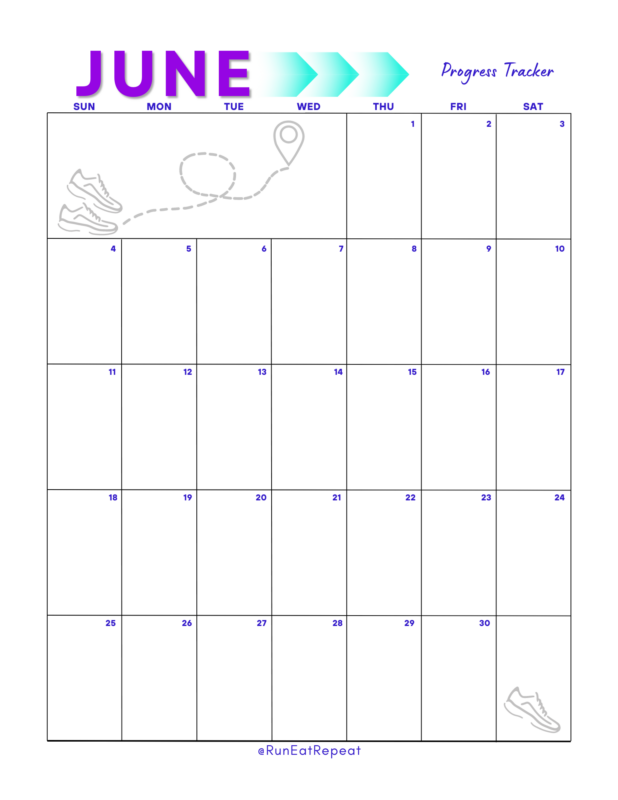 The Running Community on Instagram is a great way to stay motivated and make running buddies. So, here's an Instagram story template that can be used to document your running journey throughout June.
Engaging and Shareable – Our Instagram story templates are specifically crafted to capture attention and engage with your followers. You can share your progress and stay accountable with support from your friends and followers. Tag @RunEatRepeat so I can cheer you on too!
Track and Share Milestones -The story templates feature built-in sections for tracking your mileage, pace, and achievements. You can easily share your milestones and personal bests with your followers, fostering a supportive community and celebrating your progress together.
Staying organized and motivated is crucial for runners looking to make the most out of their training sessions. By utilizing our June calendar options, including a printable PDF calendar and Instagram story template, you can effectively plan your runs, track your progress, and engage with a wider community.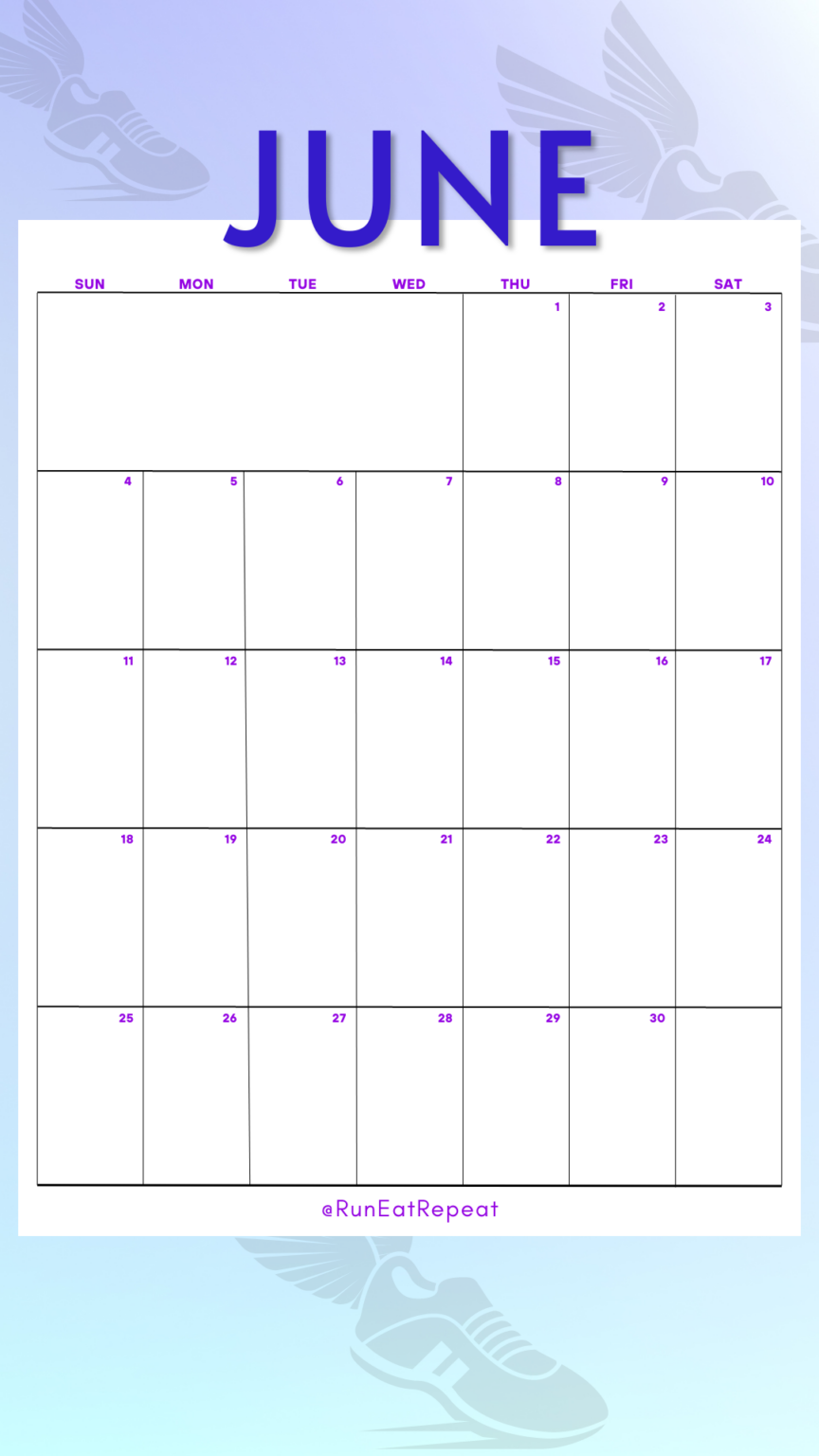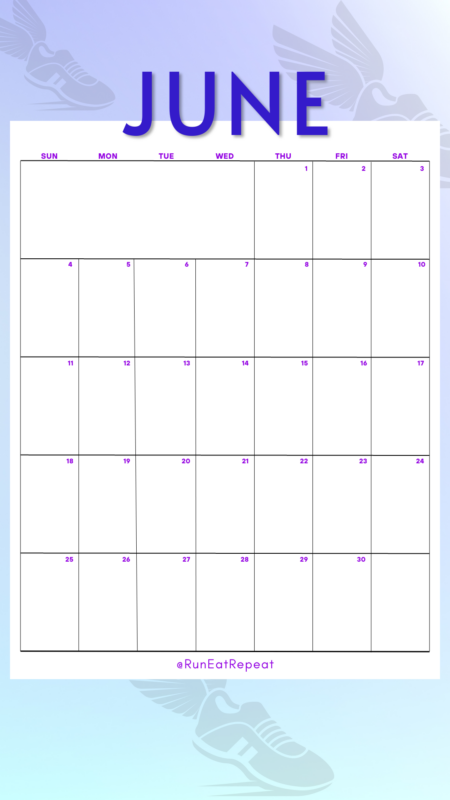 Get the Instagram Calendar Template on my Instagram Stories @RunEatRepeat – It's saved in the Highlights under "Templates" too.
Keep Going with these: