Roasted vegetables tacos are for Taco Tuesday. You need to change it up sometimes.
Are these tacos as easy as meat tacos? No. I mean how can you beat browning meat and adding a flavoring packet? Too easy!
But these roasted sweet potato and cauliflower tacos are worth the effort.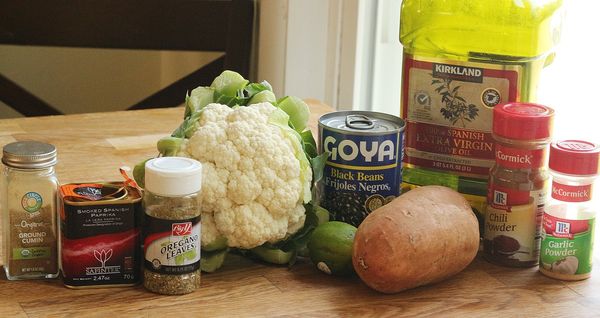 I have made tacos without meat before see my lentil tacos. I have also created a roasted veggie chili.
The whole concept here is simple. You chop and roast the vegetables with taco spices and then add cooked beans.
I don't peel the potatoes because the peel softens enough so that you don't notice it. I think soft sweet potato is like cheese.
I do use a bunch of spices to enhance the flavor of the vegetables. If you don't have an extensive spice drawer like I do, go ahead and use taco seasoning.
Do think about getting a bunch of spices because you will use them if you are trying to get healthier. Flavorings add umami like meat does (and less meat is better for you).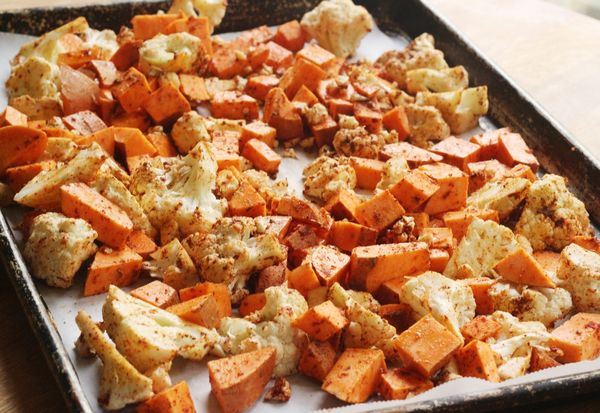 When it finishes, you have this lovely and very nutritious taco filling. Don't limit your use of these roasted vegetables to tacos! Put them on a salad or toss them with your eggs for breakfast.
They also work as a topping for ice cream (not really).
When I serve this filling with tacos, I use corn tortillas because the contrast in flavor between the sweet corn and the sweet potato is delicious. In addition to the roasted vegetable taco filling, I add mashed avocado, salsa, lettuce and some cheese and sour cream (for the kids).
I always double the recipe so I have leftovers for the next day. If I am going to use my oven in June – I am going to make it worth it.
Have you tried roasted vegetables in your tacos? How do you make your tacos vegetarian?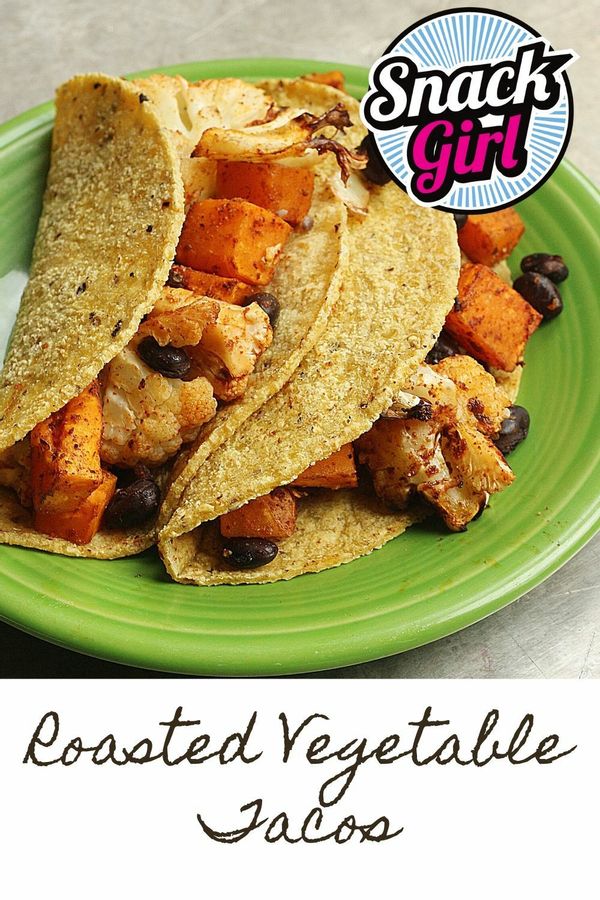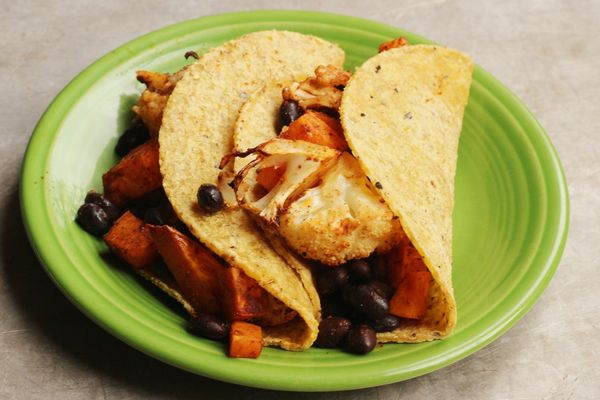 Roasted Vegetable Tacos Recipe
Makes 10 tacos
Prep time: 10 min
Cook time: 25 min

Print  Pin
Ingredients
1 head cauliflower, cut into small florets
1 large sweet potato, chopped into 1/2 inch cubes
1 tablespoon extra-virgin olive oil
2 teaspoons chili powder
1 teaspoon ground cumin
1 teaspoon smoked paprika
1/2 teaspoon garlic powder
1/2 teaspoon oregano
1/2 teaspoon salt
1 lime, juiced
1 14.5 ounce can black beans, drained and rinsed
Instructions
Heat oven to 425 F and line rimmed baking sheets with parchment paper (for easy clean-up). Mix cauliflower, sweet potato, olive oil, chili powder, cumin, smoked paprika, garlic powder, oregano, and salt in a large bowl. Squeeze lime over the vegetables and spread them in a single layer on the prepared baking sheet. Roast for 20 minutes and add black beans (to heat them up). Roast for another five minutes.
Serve in a corn tortilla with salsa.
Nutrition Facts
For one taco (without tortilla) = 61 calories, 1.8 g fat, 0.2 g saturated fat, 9.6 g carbohydrates, 2.1 g sugar, 2.4 g protein, 3 g fiber, 138 mg sodium, 1 Purple, 1 Blue, 2 Green WW SmartPts
Points values are calculated by Snack Girl and are provided for information only. See all Snack Girl Recipes
Other posts you might like:
---

Lentil Tacos
Lentil tacos are for Taco Tuesday (or anytime really). Turns out you don't need ground beef!….
---

Roasted Veggie Chili on a Sheet Pan
This roasted veggie chili on a sheet pan is so easy! You only need to clean one pan after making it…..
---