This healthy shakshuka recipe is for those who have never even heard of shakshuka.
I hadn't heard of it either until I encountered it on a brunch menu in Mexico (over a year ago). What is this mysterious "shakshuka"? I did know I was going to like it because it has tomatoes and eggs (a great combo).
Shakshuka (also spelled shakshouka or chakchouka) is a big pan of eggs poached in a sauce of tomatoes, peppers, onions, garlic, and olive oil. It may be spiced with cumin, paprika, and cayenne pepper. The recipe has been around in Mediterranean cultures for centuries.
Since I found it in Mexico – I was quite confused to see that it was Mediterranean. But, if you think about it for a second – Mexican food features tomatoes, peppers, eggs, cumin… It makes sense that it migrated to Mexico.
At any rate, I fell in love and was thrilled to find recipes that confirmed my suspicion that shakshuka is healthy. YES!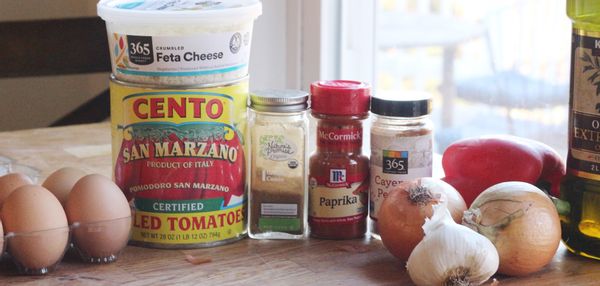 I added feta cheese to this shakshuka but you don't have to. If you leave it out, you will have almost no points for Blue or Purple WW program members. The only thing that counts in the recipe is the one tablespoon of olive oil.
I added the feta because I think it makes it more tasty. Also, my kids will eat anything with cheese in it. It is still a healthy shakshuka with the feta as I don't use too much.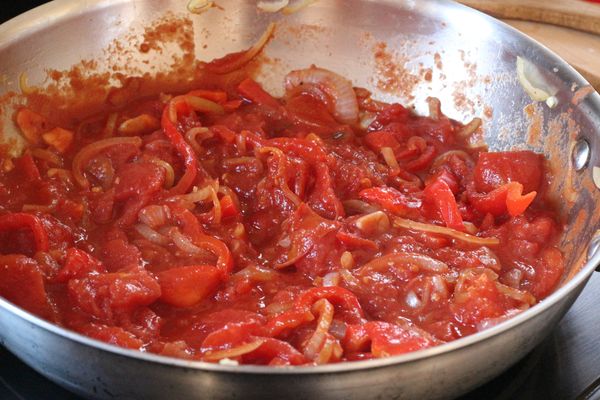 How do you make it? First, you make a thick tomato sauce. Then you float some eggs on top and send the pan into a preheated oven. The oven cooks the eggs and then you eat it with some nice bread (or not).
You can eat this healthy shakshuka for breakfast, lunch, or dinner. I like to make an extra one and eat it all week. It is delicious heated up in the microwave but it does not freeze well.
You could freeze the sauce part before you put in the feta and the eggs.
Have you tried a healthy shakshuka? What did you think of it?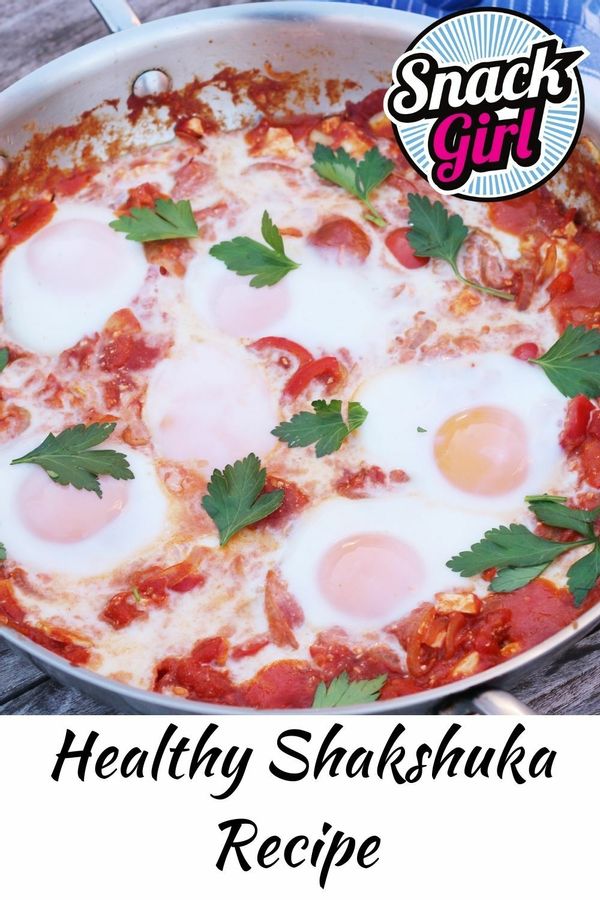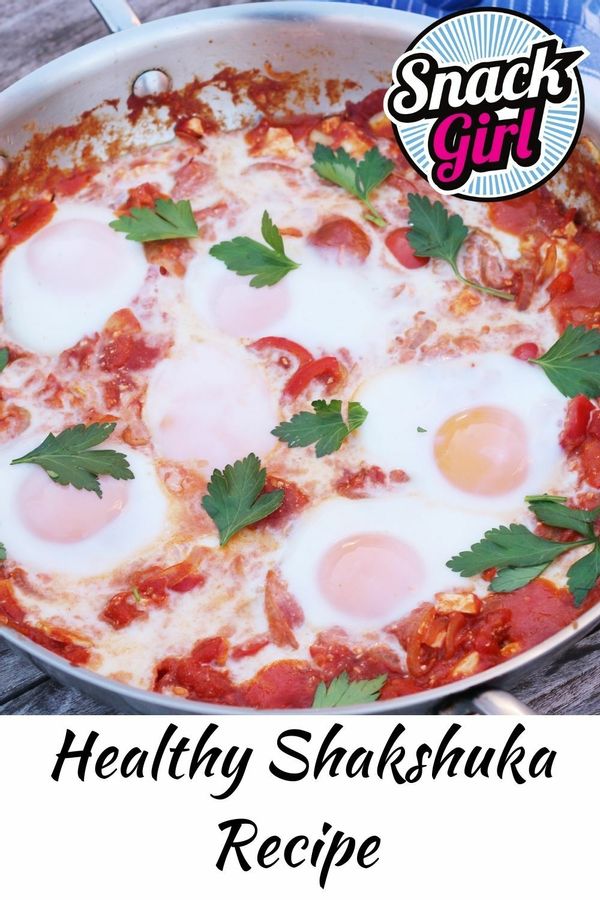 Healthy Shakshuka Recipe
Makes 6 servings
Prep time: 15 min
Cook time: 35-40 min
Print  Pin
Ingredients
1 tablespoon extra-virgin olive oil
1 large onion, peeled and thinly sliced
1 large red bell pepper, seeded and thinly sliced
3 garlic cloves, peeled and thinly sliced
1 teaspoon ground cumin
1 teaspoon paprika
1/8 teaspoon ground cayenne
1 (28 ounce) can whole plum tomatoes with juices, coarsely chopped
1/4 teaspoon ground black pepper
5 ounces feta cheese, crumbled
6 eggs
chopped cilantro or parsley for serving (optional)
Instructions
Heat oven to 375 F. Heat a large oven-proof skillet to medium-low and add oil, onion, and bell pepper. Saute until softened but not browned about 15 minutes. Add the garlic, and saute for one minute. Add the cumin, paprika, and cayenne. Toast the spices for one minute. Add the tomatoes and black pepper and cook for about five minutes at medium high to reduce the tomatoes a little bit. Mix in the feta and taste for flavor (the dish might need more salt depending on your canned tomatoes). Add salt, cumin, more cayenne – whatever makes it taste better to you.
Crack the eggs one by one adding them on top of the sauce. Place pan in oven and roast the shakshuka until the eggs are your desired doneness – about 7 minutes for runny eggs – 11 minutes for more solid yolks.
Serve with cilantro or parsley.
Nutrition Facts
One serving: 188 calories, 12.2 g fat, 5.3 g saturated fat, 10.7 g carbohydrates, 6.6 g sugar, 10.7 g protein, 2.5 g fiber, 334 mg sodium, 5 Green, 3 Blue, 3 Purple WW SmartPts
Points values are calculated by Snack Girl and are provided for information only. See all Snack Girl Recipes
Other posts you might like:
---