Did you know we have lots of different meal plans to choose from in the Healthy Mummy App? From keto to budget to hormone balancing to vegan and more, there's a meal plan for all. Plus it's easy to customise meal plans to suit your tastes and needs.
As part of the 28 Day Weight Loss Challenge, not only do the challenge themes change each month, but you also get access to different meal plans!
New meal plan types will occasionally be added or changed, but looking at the options available and customising them to suit you is really easy in the Healthy Mummy app.
Jump ahead to find how to customise them meal plans in the app:
Current meal plans available on The Healthy Mummy app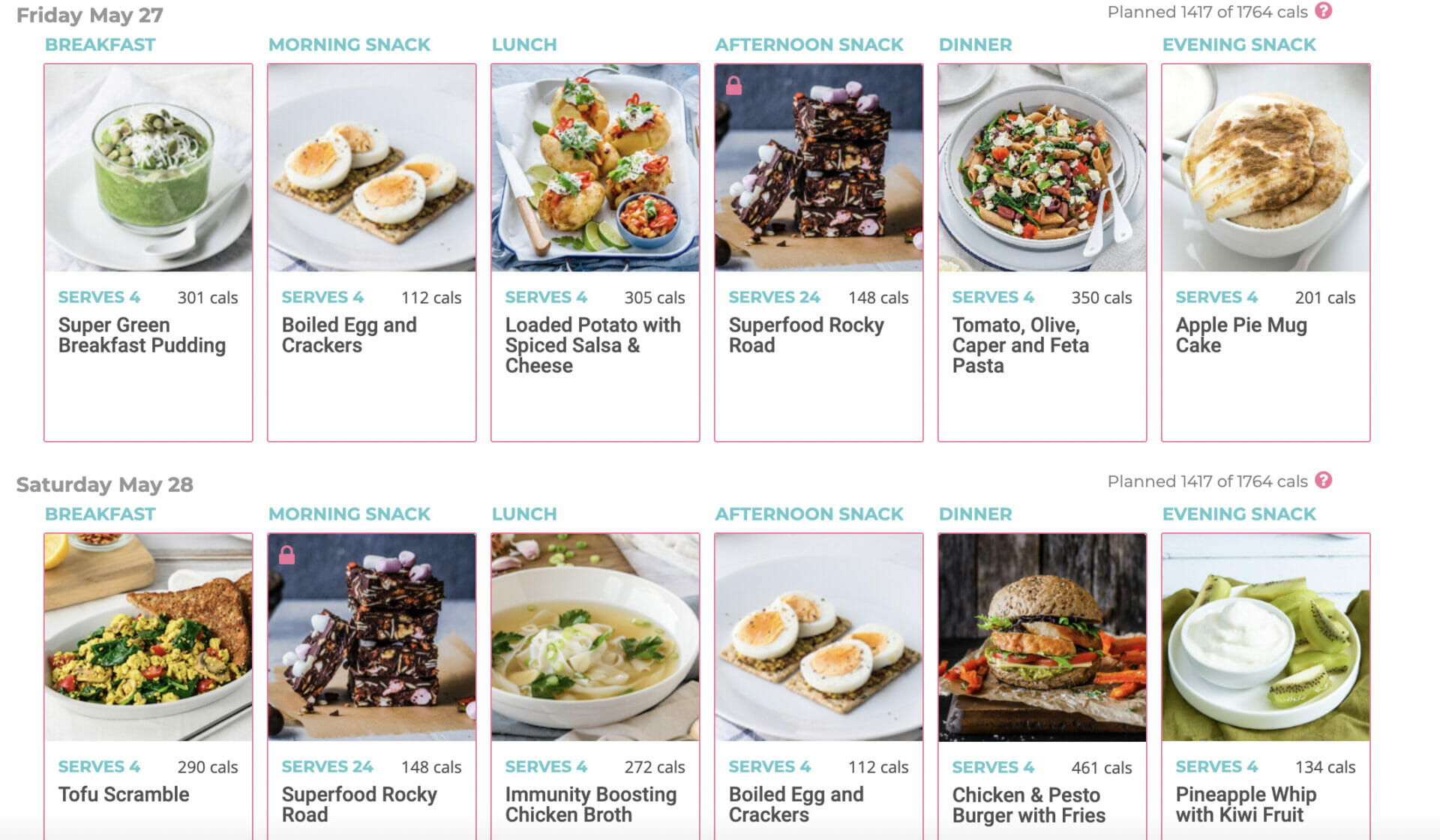 Themed Meal Plans:
Variety
Budget Timesaver
High Calorie
Vegetarian
Vegan
Dinner Only
Lunch Only
Snacks Only
Find out where all the meal plans are and a more detailed breakdown of each plan in our full list of all the meal plans in the Healthy Mummy app.
Sascha has lost over 30 kg with The Healthy Mummy and is here to show you how easy it is to use the Healthy Mummy App and customise your meal plan.

Each 28 Day Weight Loss Challenge has a different theme each month, for example, Sugar Detox or Immunity Boosting.

Weekly meal plans for each Challenge are downloaded into the app every Wednesday. All of this can be customised to suit you and your family's preferences.

This video of Sascha helps to explain how to get the most out of the recipes and shopping lists in the App. Or Scroll down for a Step by Step guide.
A step-by-step guide for you to customise a meal plan
Each of our meal plans are built with ease of use in mind, but we understand that not all tastes are the same, which is why we make them completely customisable. If you want to customise the meal plan for this month, use the step-by-step instructions below.
Step 1. Go to the food section
Open the Healthy Mummy App and go to the Food Section in the middle of the bottom bar.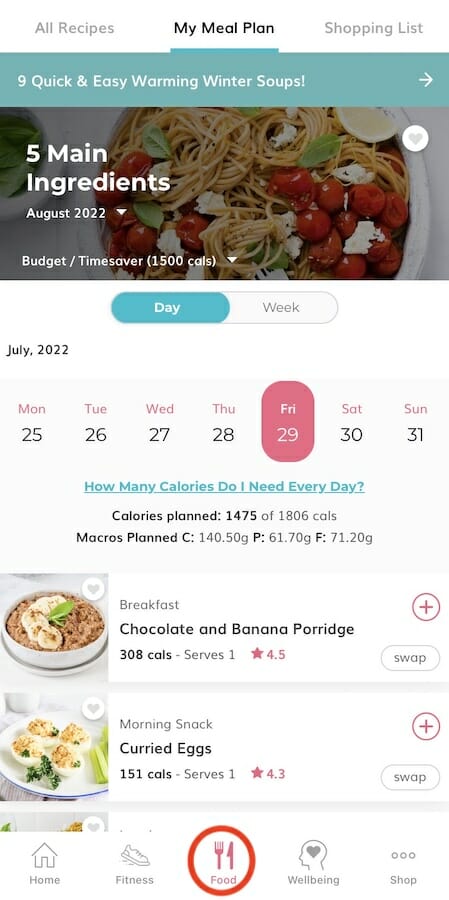 Step 2. In the top left corner is the Challenge Theme
In the top left corner, you will see the Challenge Theme, for instance, 5 Main Ingredients, the current month, and the meal plan type (e.g. Budget Time Saver 1500 cals).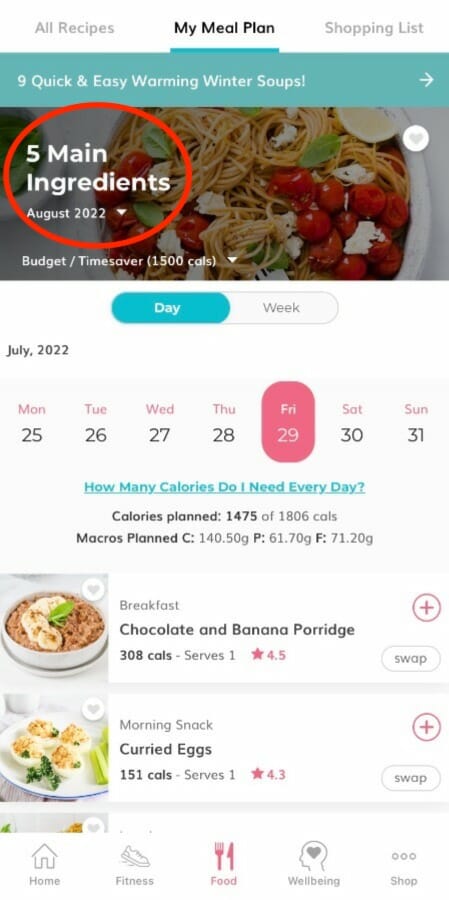 Step 3. Click on the current month
By clicking on the downward-facing arrow on the current month, you are able to look at current and previous Challenge Themes.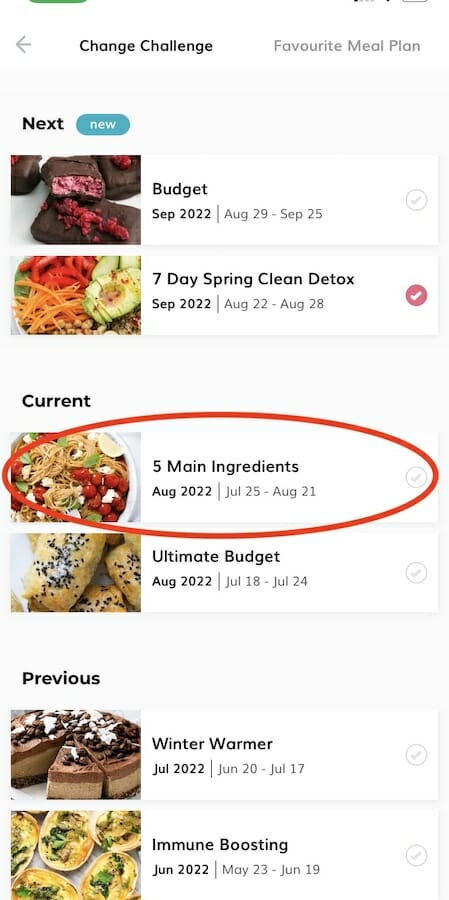 Note: Occasionally, we have a Gap Week
The gap week will also be shown here. This will affect when you can view the next month's challenge.
When there's no gap week, you can view the 1st week of next month's challenge in week 4 of any challenge. If there is a gap week, you will be able to view the first week of the next challenge during the gap week.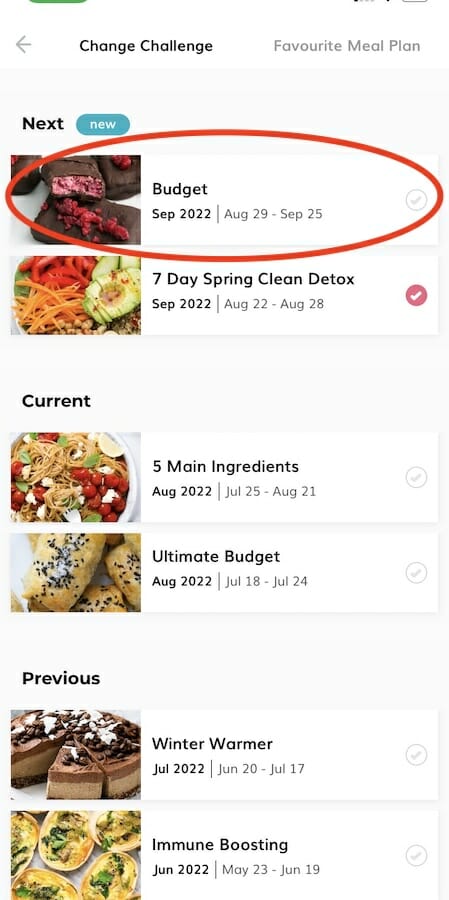 Step 4. You'll then see the meal plan type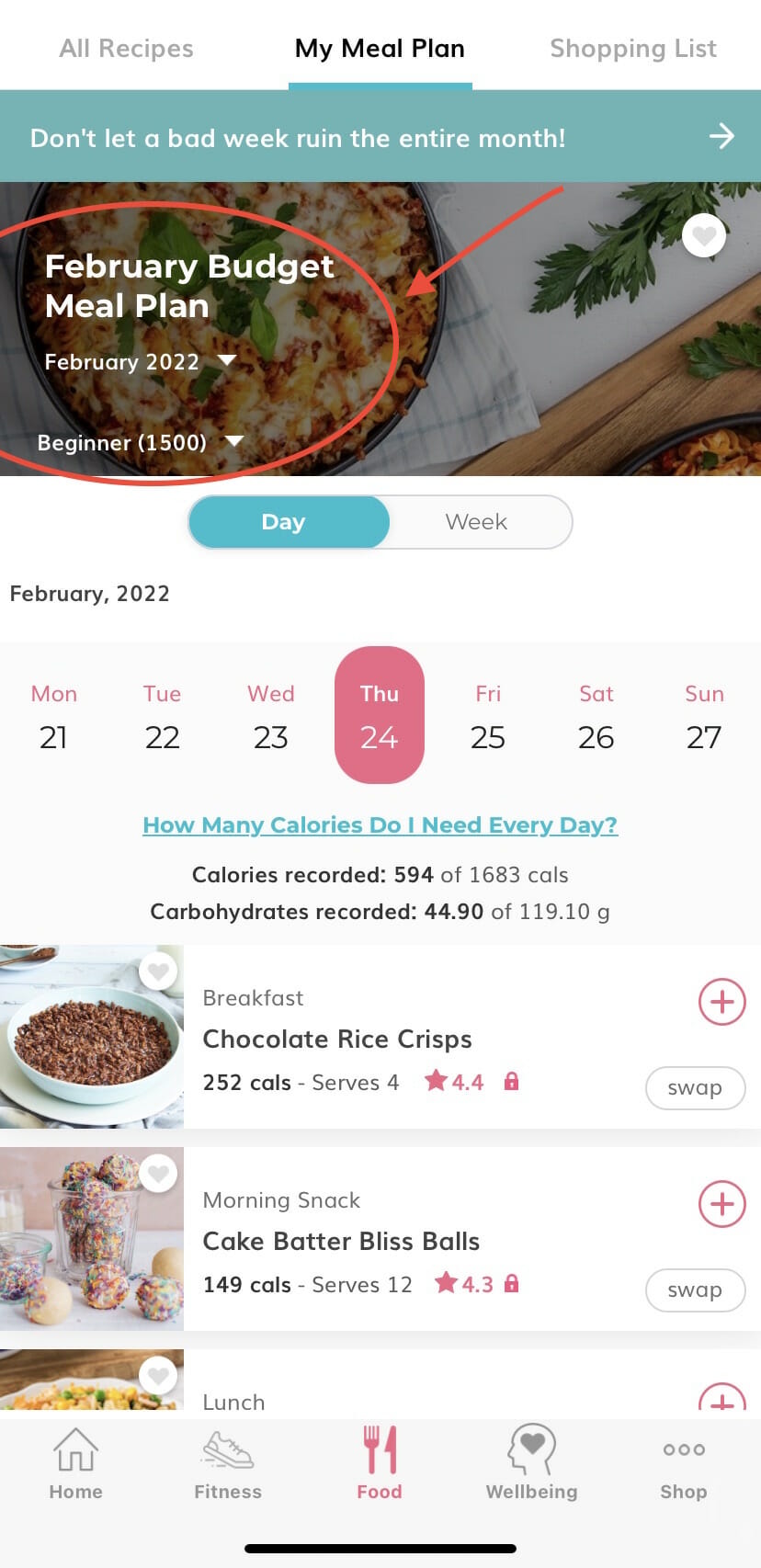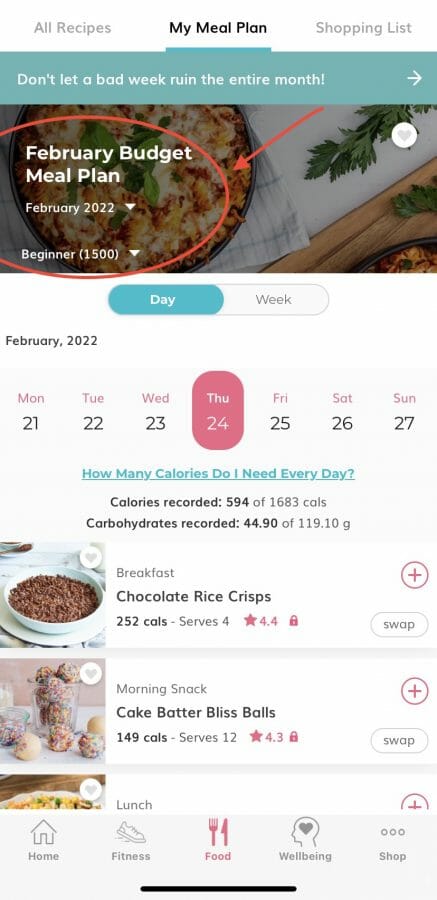 Once you have clicked on the new month, click on the downward-facing arrow on Meal Plan type (in this case Beginner) and you will see the meal plan options for that month and change or update accordingly to suit you.
Remember, when there is a new meal plan type added for a new month, you will be able to see that from Wednesday in Week 4 of the current challenge by changing to the new theme. OR if there is a Gap Week, it will become visible during the Gap Week. 
Step 5. If you change your meal plan, the meals will be updated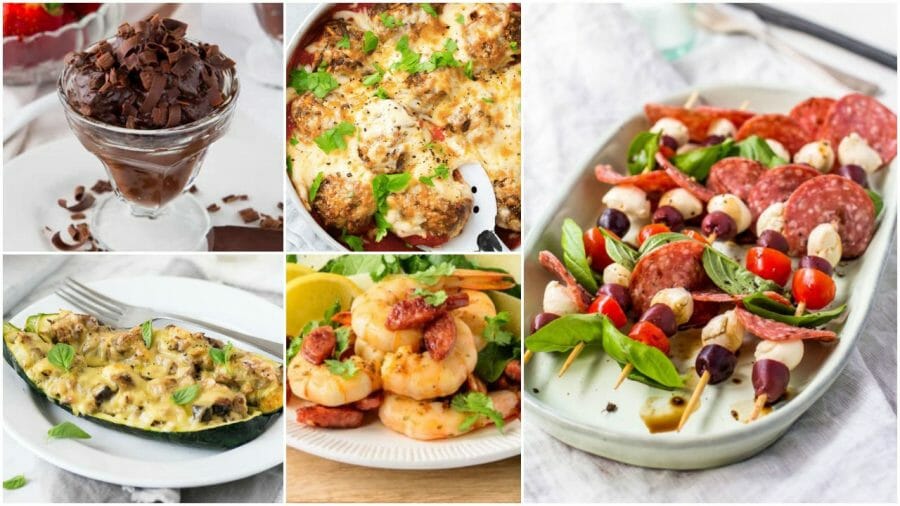 If your meal plan type changes for the new month, it will automatically update the new meal plan type added.
Each month our standard meal plan types (Variety, Lunch Only, Dinner Only, Snack only, Budget/Time Saver, Higher Calorie, Vegetarian and Vegan) will be suited to our monthly Challenge theme. 
Our speciality meal plans, such as the keto, Pregnancy, 45+ Hormone Balancing, Pantry Basics, Beginner, Real Mums Meal Plans, 3 Pot Bulk Cooking, as well as our customer choice meal plans (Gluten Free, Air Fryer, High Protein, Low Carb) are specifically designed by our nutritionists to suit specific needs.
You can customise all meal plans with any of the thousands of recipes we have in the app!
What else does The Healthy Mummy App offer?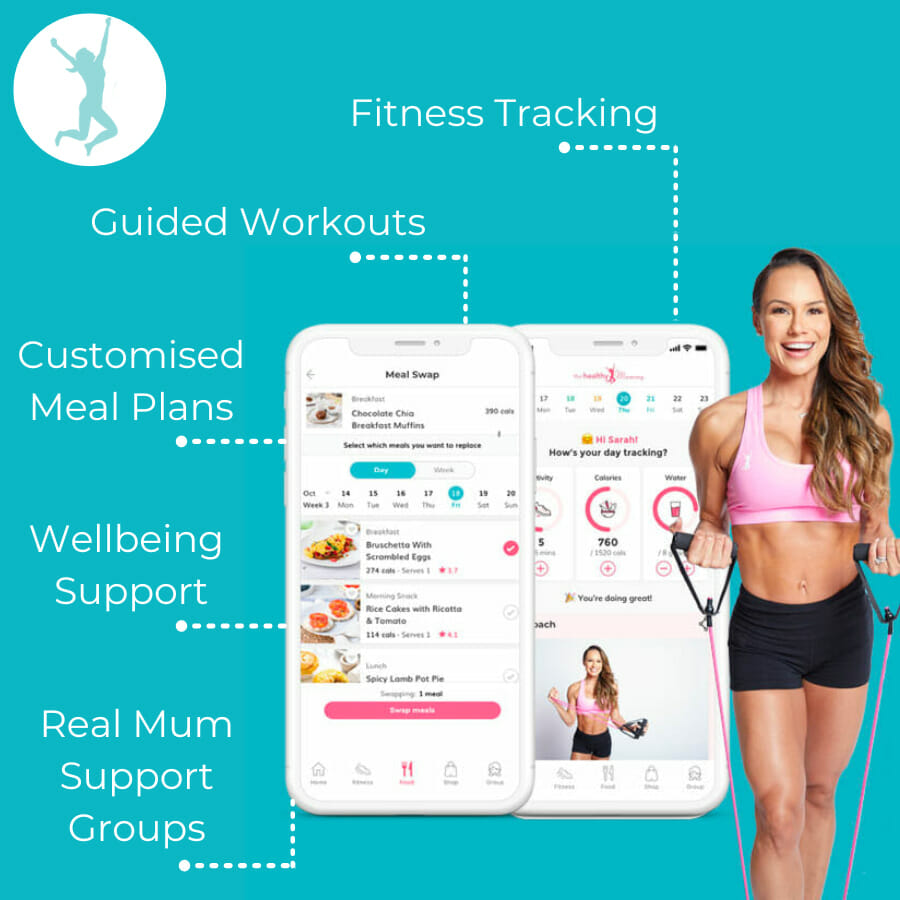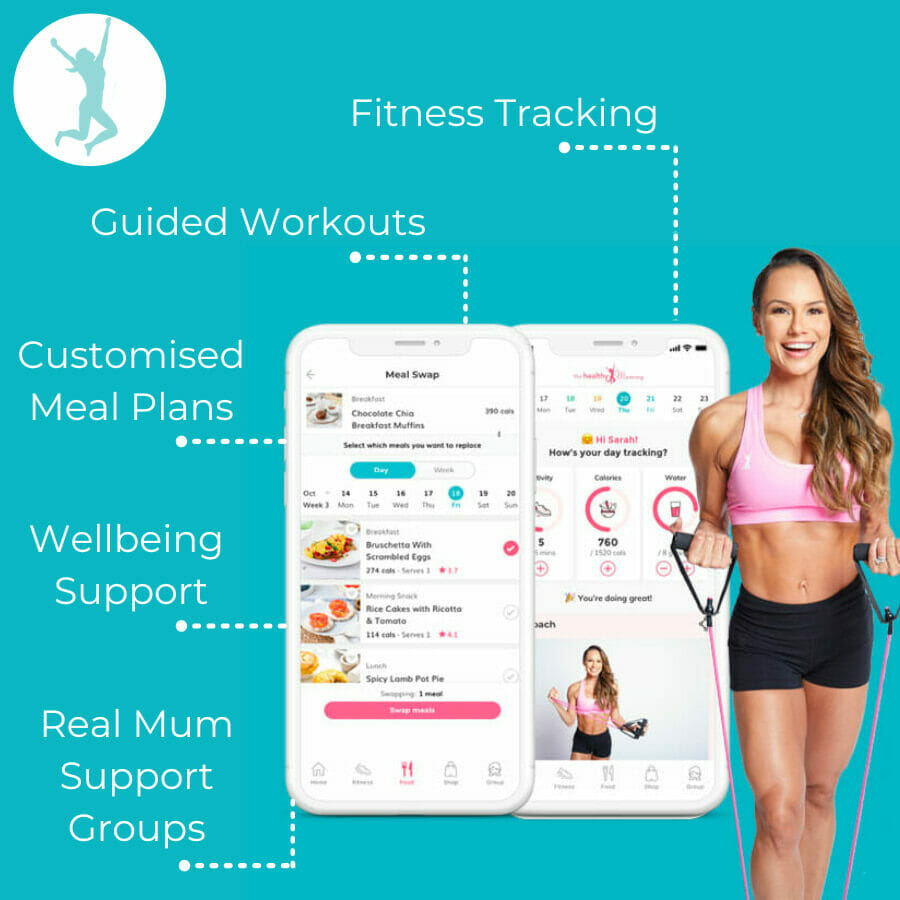 Tracking your activity in the app
The App makes tracking all your activity super easy! Ticking off what you've eaten, how much water you've drunk, as well as what exercise you've done that day.
This means you can monitor everything and stay accountable. It doesn't take long for this to become a daily habit that's easy to follow.
Healthy Mummy Sascha shares her tips on how to track your meals, including custom food, using the bar code scanner in the app:
Fitness in The Healthy Mummy app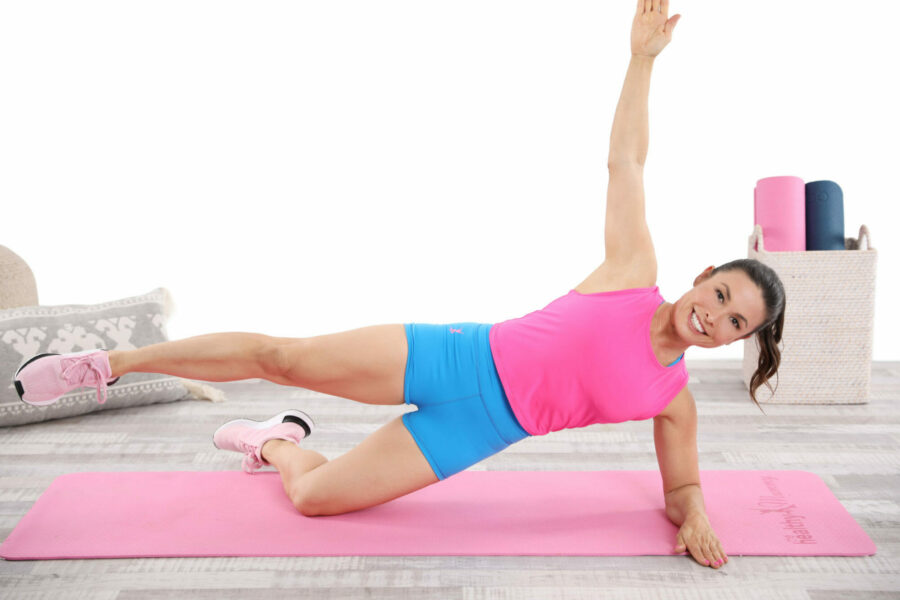 The exercise programs in the app have been designed by our personal trainers JUST FOR MUMS to do AT HOME – even when the kids are around. So the exercise sessions are never longer than 30 minutes!
There are a variety of levels, and you can start simple and slow and, over time, build up your strength and stamina.
Sascha talks you through how to pick your program and customise your exercise plan:
Wondering where to start?