These easy refrigerator pickles should live in your fridge. Bored with the same old food – add pickles!
I make these pickles for my husband who then devours them and attempts to drink the pickle juice (which has become a thing).
My kids scream – noooo!!! But he still does it.
After I make them, I bring them out with every meal and they disappear fast.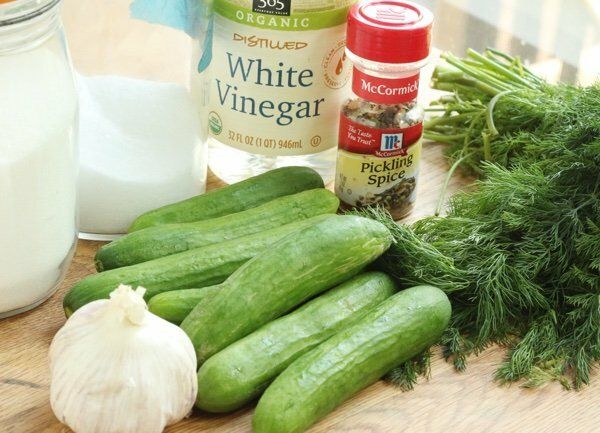 I like cucumbers and you can get these small ones for $1 per pound right now just about everywhere. Your most expensive ingredient is the fresh dill but it is well worth it.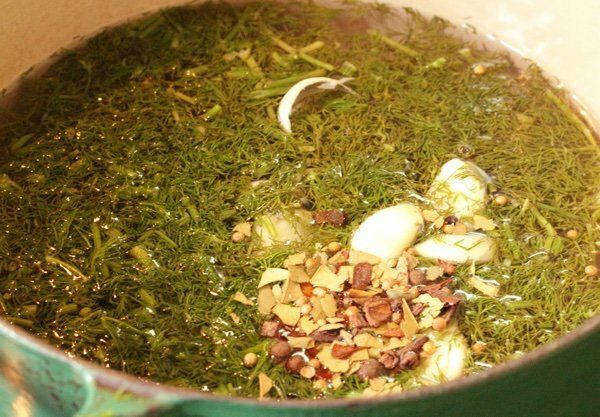 All you do is toss the ingredients into boiled water (except for the cucumbers) to let them dissolve. Then, you slice the cucumbers into halves or spears and pour over the pickling liquid.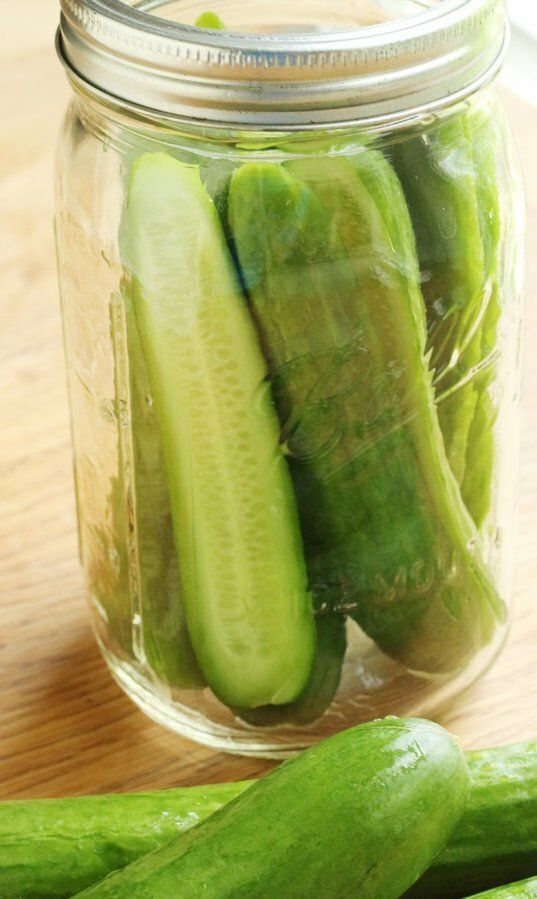 I pack my cucumbers together in the jar to make as many as I can. There really isn't any cooking except for the mandatory refrigeration phase of the procedure.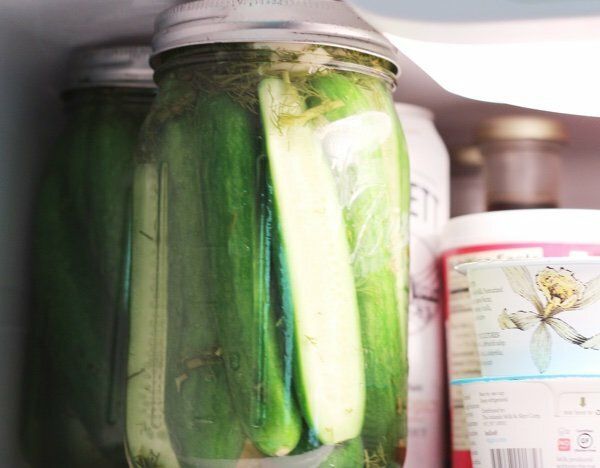 Go ahead and pop them in your fridge for one day and you will have delicious pickles.
I used pickling spice (because that was obvious) but you don't have to buy a mix. If you like your pickles spicy, use peppercorns. Mustard seeds, coriander seeds, cumin seeds, and bay leaves are all good additions to the vinegar dill liquid.
Your pickles will be tastier than any pickle that you can buy and far less expensive. They have a much better crunch because you didn't cook them in any way.
If you already have pickles in the fridge, save the jar and pickle juice and simply add cucumber slices – wait a day – done!!! Now that really is easy.
(you just have to make sure some lunatic doesn't decide to drink the pickle juice)
How do you make pickles? What do you serve them with?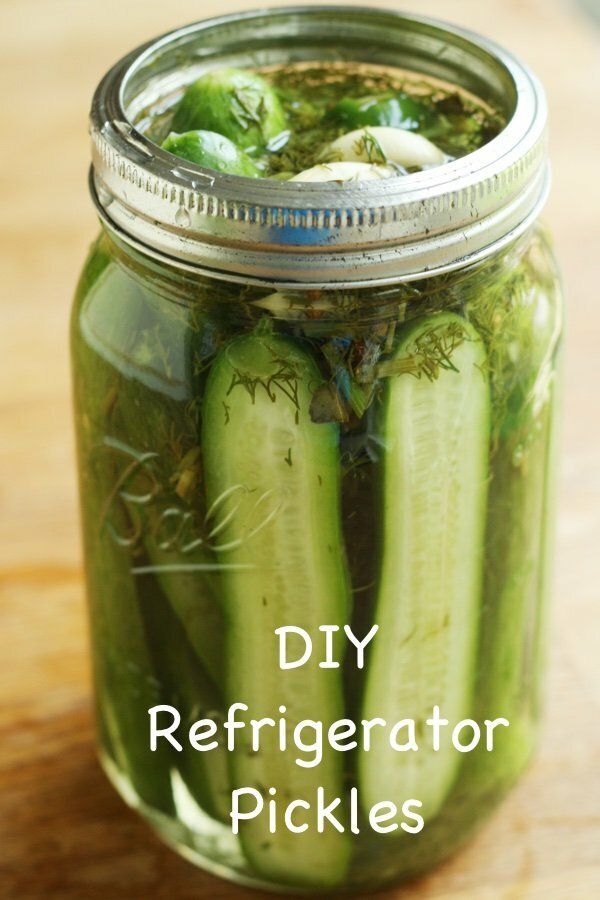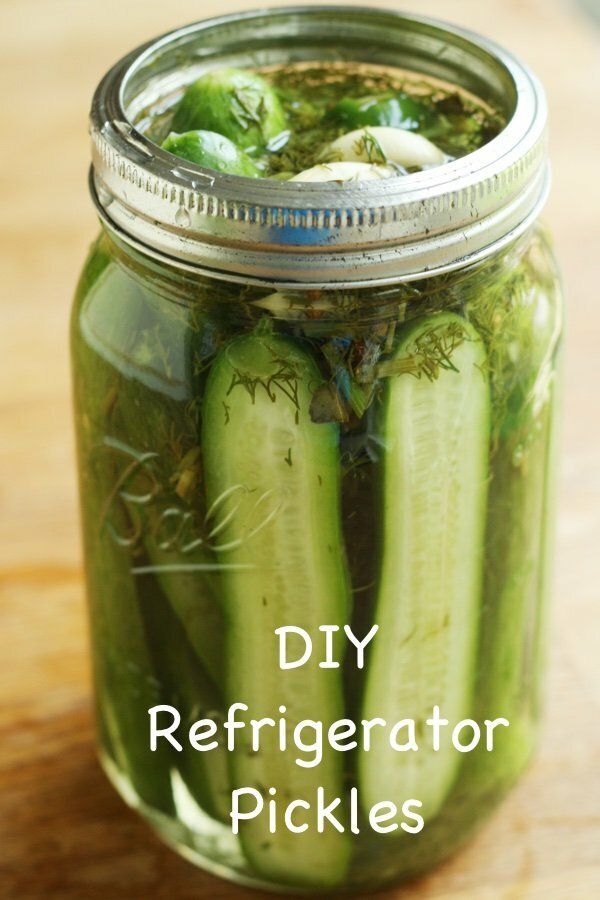 Easy Refrigerator Dill Pickles Recipe

Makes 1 quart jar
Print  Pin
Ingredients
1 ½ cups white vinegar
1 tablespoon kosher salt
1 tablespoon sugar
1 cup fresh dill, washed and chopped
2 cloves garlic, peeled and smashed
1 teaspoon pickling spice or black peppercorns
1 pound mini cucumbers such as Kirby
Instructions
In a medium sauce pan, add 2 cups of water and bring to a boil. Remove from heat and add vinegar, salt, sugar, dill, garlic, and pickling spice. Slice mini cucumbers lengthwise and pack into a large quart Mason jar. Pour liquid over cucumbers adding water if it does not cover the pickles. Refrigerate for 24 hours and enjoy! These will remain delicious for 2-3 weeks.
Nutrition Facts
For one pickle: 32 calories, 0.3 g fat, 0.0 g saturated fat, 6.1 g carbohydrates, 2.1 g sugar, 1.3 g protein, 0.9 g fiber, 710 mg sodium, 1 Freesytle SmartPt
Points values are calculated by Snack Girl and are provided for information only. See all Snack Girl Recipes