If you are determined to get on top of your weight loss and health goals, smoothies can be an amazing tool! They are super easy to whip up, a complete meal replacement, low calorie, and the best part, taste delicious! They make the perfect breakfast, providing you with an amazing blend of nutrients to give you the best start to your day. They also make a great snack option, plus as a complete meal replacement can replace any of your main meals.
There are 6 delicious flavours in our Premium smoothie range to choose from! Scroll down for more about why the Premium Range is so good plus 6 DELICIOUS Premiums Smoothie recipes to try!
Why Premium Smoothies?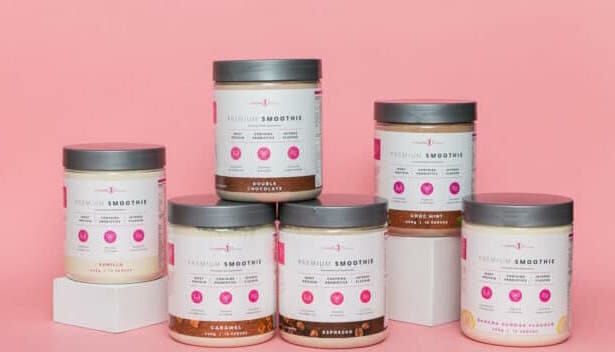 The Healthy Mummy has a range of different smoothies available including our AMAZING Premium Smoothies!
The Premium Smoothies are whey blend meal replacements that contain 80% whey protein. They have 24 vitamins and minerals AND probiotics for enhanced gut health. They're also really creamy and smooth with a great texture. They are low carb with just 3.9g per serve and will give you increased energy by providing you with the best possible nutrition, 
In fact, ALL of the 6 Premium Smoothie flavours have been awarded a 5 STARS by Healthy Star Rating! The Health Star Rating system rates the overall nutritional profile of packaged food and assigns it a rating from ½ a star to 5 stars. The more stars, the healthier the choice! 
While the Premium range has really intense flavours, technically there's no need to add anything else to your smoothie other than milk of your choice. However, if you want to mix things up, try these delicious smoothie recipes using the Premium Smoothie Mix below!
6 Delicious Premium Smoothie Recipes

Banana Energy Smoothie – 310 calories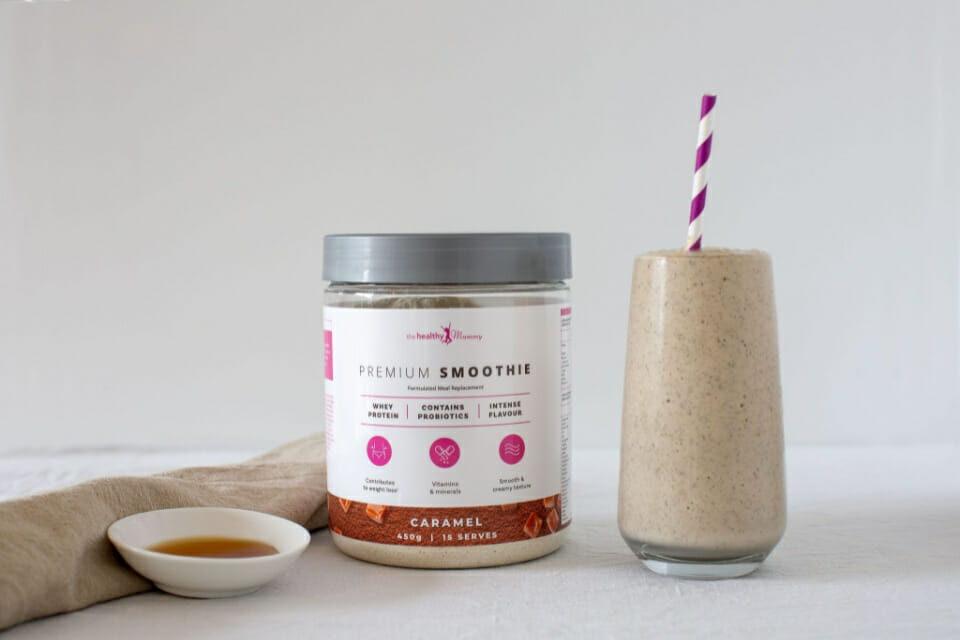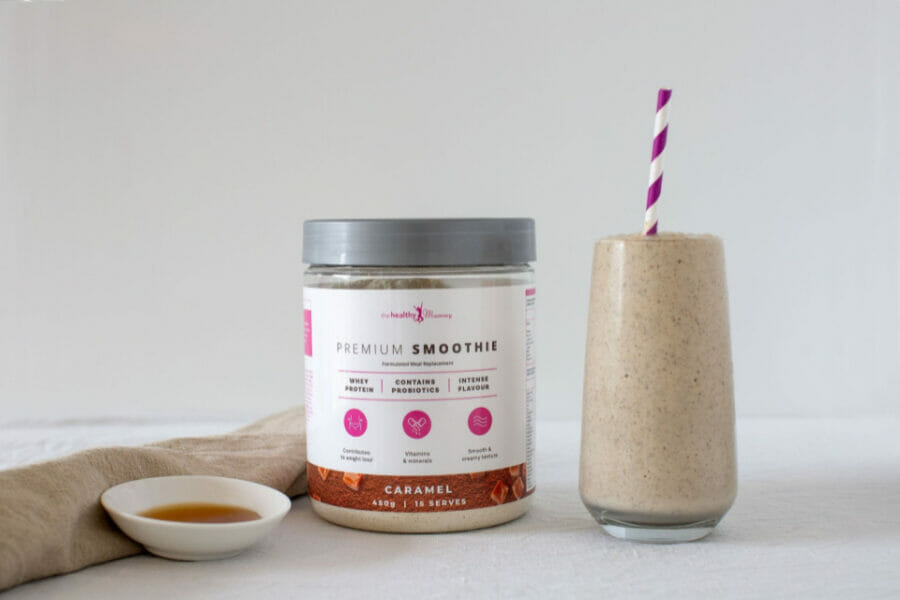 Start your day the right way with this delicious smoothie with the perfect taste combo of caramel and banana. YUM!
Get the recipe here!
Oat Boost Smoothie – 267 calories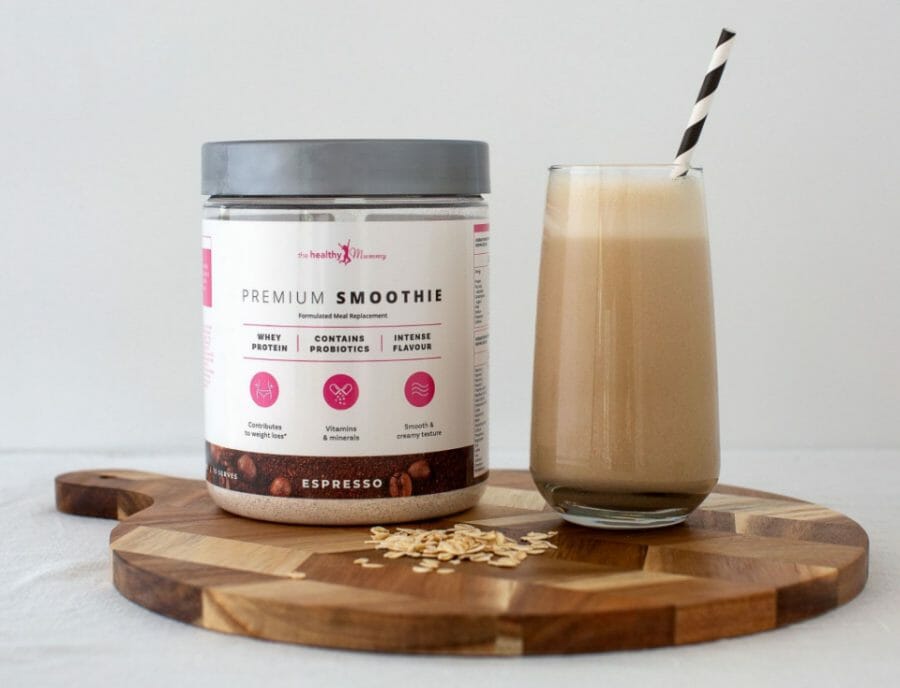 Do you love to start your day with a coffee – then you'll love the Espresso flavour! Adding a boost of oats will make you feel fuller for longer.
Get the recipe here
Sundae Brekky Smoothie  – 389 calories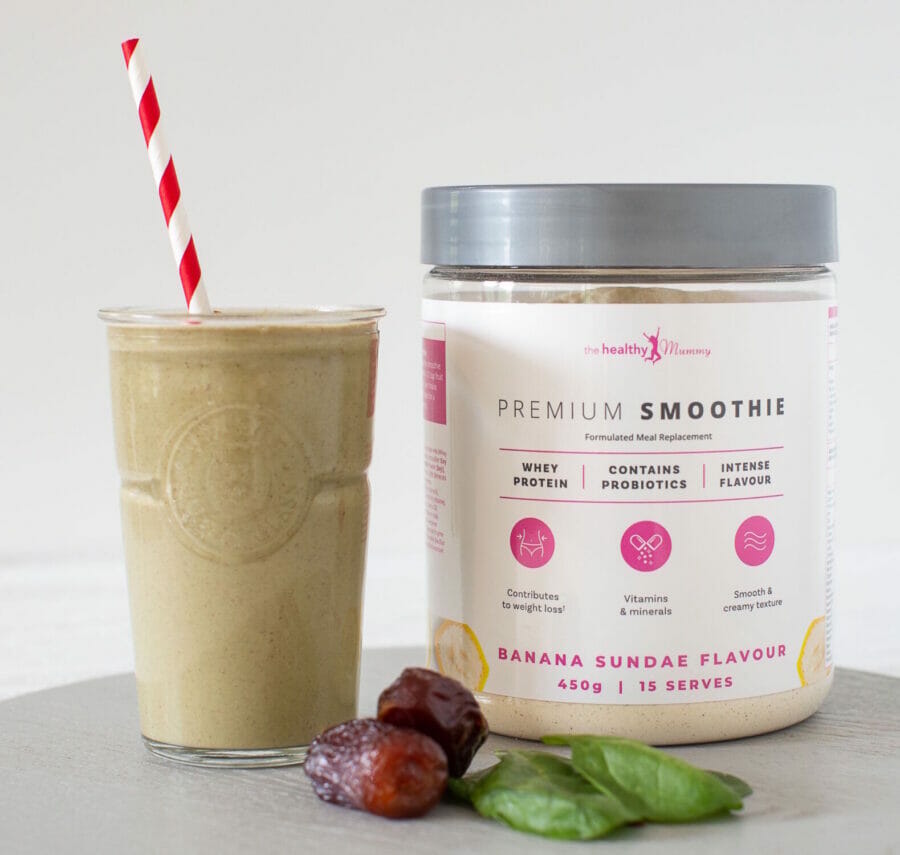 With only a handful of ingredients, this Sundae Brekky Smoothie from the 28 Day Weight Loss Challenge, is the PERFECT start to the day (and not just on a Sunday!)
Get the recipe here
Double Choc Green Smoothie – 357 calories
Give your iron levels a boost with this delicious Double Choc Green Smoothie using the AMAZING Double Choc Premium Smoothie Mix.
Get the recipe here
Banana Coconut Smoothie – 300 calories
This tasty smoothie made from the Premium Banana Sundae Smoothie Mix tastes just like a Banana Sundae with a delicious hint of coconut.
Get the recipe here
Mighty Green Vanilla Smoothie –  267 calories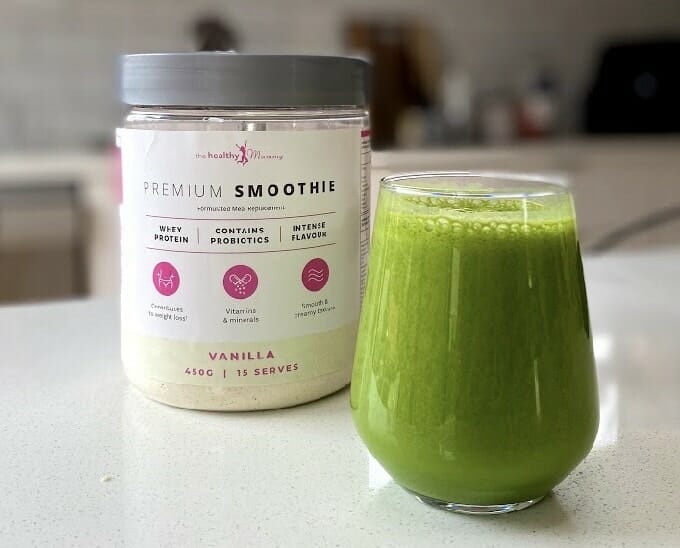 This Smoothie recipe includes spinach AND parsley, so you'll be getting an extra boost of iron, Vitamin E and magnesium.
Get the recipe here 
Want to get your hands on a Premium Smoothie Tub? Click here
Mums share recipes and ways to use the NEW Healthy Mummy Premium Smoothie Mix
Hear what real mums are saying about the Premium Smoothies!